TDL Equipment plays its part in contributing to the lucrative waste recycling industry
It is estimated that the waste recycling industry contributes £6.8 Billion to UK economy and supports over 103,000 jobs in the UK alone. The waste management industry has brought increasing levels of value to the wider British economy by achieving greater efficiencies. More specifically, that means that the industry has been better at recycling more rubbish — a greater percentage of rubbish is being recycled rather than sent to landfill. That increased recycling rate means more recycled materials can be re-added to the economy as products for the home construction or road paving industries.
At TDL Equipment, we operate at the very heart of that industry by supplying the highest quality material handlers to the waste management industry. TDL supply the Atlas product range to our customers with machinery such as material handlers. Not only that, TDL have a wide range of compatible grabs and parts available for sale.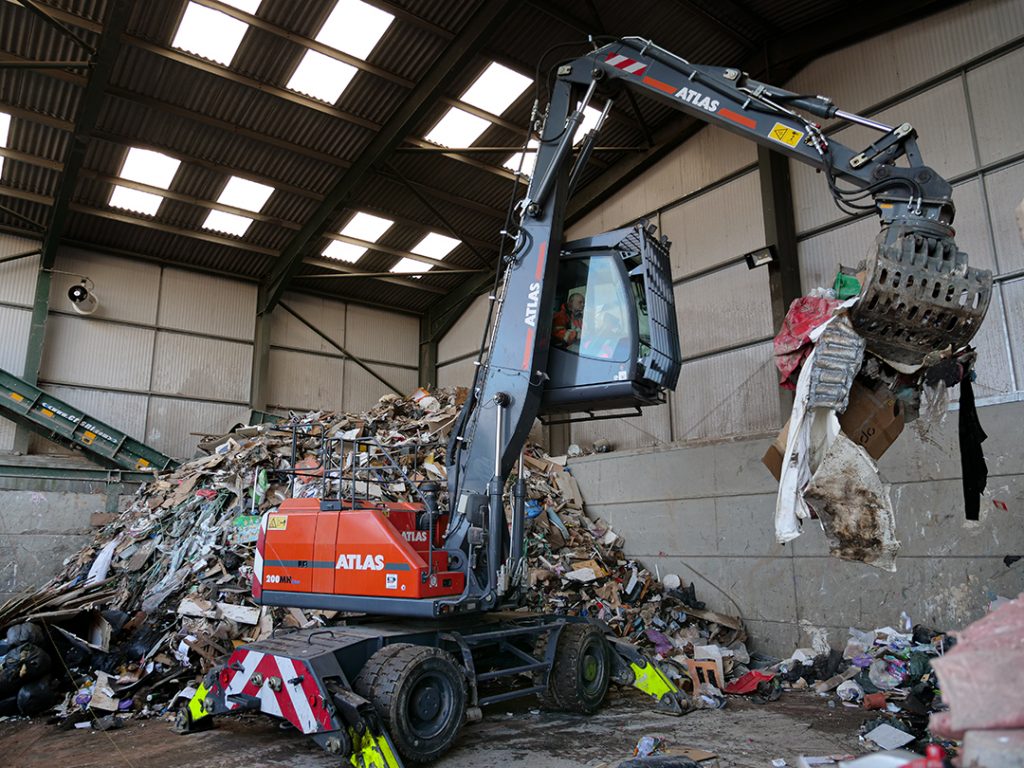 TDL Equipment is the official distributor for the well trusted Atlas material handler brand. As one of the leading equipment suppliers in the United Kingdom, the TDL goal is to provide top quality machines with a class leading service and support at all times. TDL supply a range of machinery to various different industries. Specialising in the waste recycling and scrap processing industry, rail and drainage boards.
ATLAS excavators and material handlers are the all-purpose machines for the rail road, waste and scrap industries. They are enormously strong, solid and mobile and can be operated effectively in virtually all kinds of conditions.

• Excellent stability for maximum performance
• Optimal centre of gravity and ideal weight distribution
• Precise digger control with a sensitive hydraulic system
• Streamlined for trench work, strong design and construction
If you want find out more about our range of Atlas Material Handlers then give us a call on 08444 99 44 99 or visit our website at www.tdlequipment.com