TDL Equipment combine the Atlas innovative safety features with high performance technology to keep workers safe.
Workers in the scrap recycling, skip hire and waste management sectors are surrounded by hazardous conditions every day. One of the biggest hazards for workers in the waste management and recycling industries is the risk of being hit by moving machinery, closely followed by being hit by moving vehicles and then by falling or moving objects, according to the Health and Safety Executive.
The UK's Waste and Recycling sector is made up of around 120,000 workers and remains one of the most dangerous sectors in the UK, with 5 fatal injuries to workers in 2019 – 2020. 30% of those fatalities were due to contact with moving machinery and 30% struck by moving vehicles, according to RIDDOR – Reporting of Injuries, Diseases and Dangerous Occurrences Regulations of the HSE.
According to RIDDOR, the Waste sector has a rate of fatal and serious injury around 18 times the average rate across all industries including agriculture, forestry and fishing, manufacturing and construction. The Labor Force Survey from the HSE detail that it's estimated around 4,000 workers each year within the waste sector sustain an injury at work.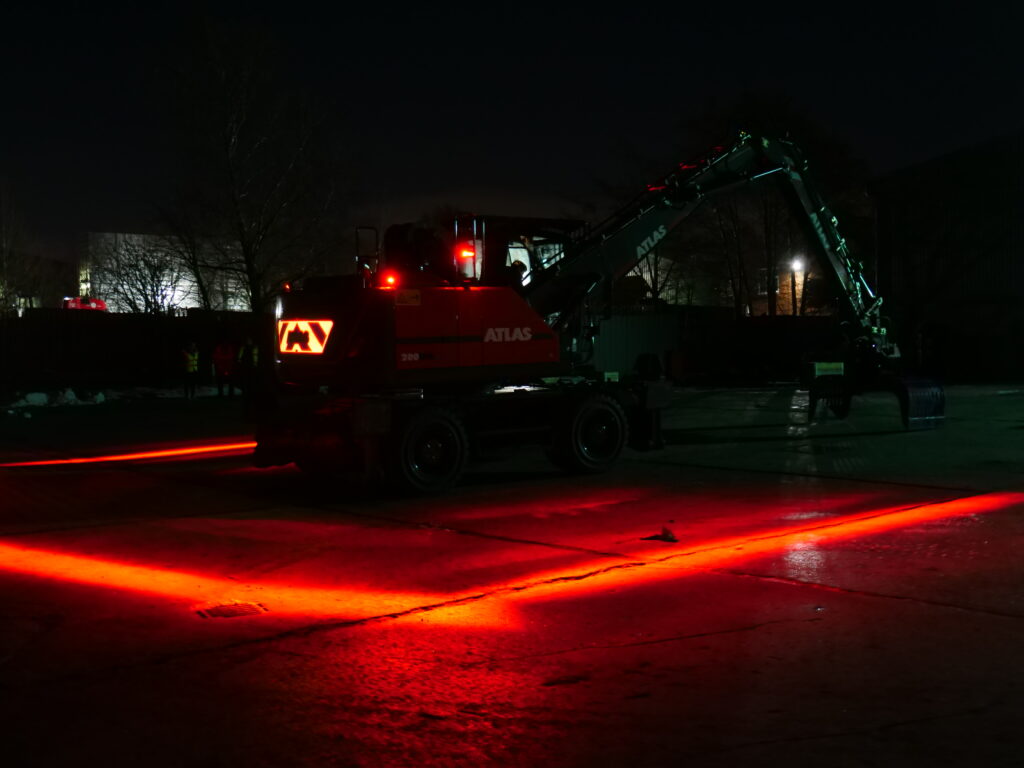 Working around moving vehicles and machinery is one of the areas that the HSE has stressed must improve within the waste industry and that's why the UK's ATLAS dealer, TDL Equipment, have stepped up the game. Working closely with FHOSS, TDL are able to offer a safety focussed specification to improve the Health and Safety standards of scrap and waste facilities across the UK, something already adopted within the Construction sector.
ATLAS machines are supplied jam packed with innovative features to enhance safety for both operators and bystanders alike. The ATLAS range of material handlers offer features such as an Emergency Cab Lowering System, 360 degree camera system, RADAR rear protection among many other features as standard. Partnered with the global award winning illuminated safety products from FHOSS, ATLAS machines just got even better.
"The Atlas Material Handler range boasts great performance, reliability and a proven pedigree in the industry. The innovative safety features such as the easy-access emergency cab lowering system can be overlooked, but it's safety features such as this together with FHOSS systems which we are always keen to promote.", James Bickerton, TDL Equipment Business Development Director.
As the sole official ATLAS machinery dealer for the UK, you can be confident that all TDL engineers are fully trained by ATLAS, utilising genuine diagnostics, following health and safety protocols to service, maintain and repair your machine, to ensure your machine remains working at it's best whilst keeping everyone on site safe. "TDL have been supplying Atlas equipment for over 20 years, and putting customers first has always been one of our core values. Safety is a priority in any walk-of-life, so we are proud to be able to offer innovate solutions to protect the well-being of our customers during their day-to-day business.", explains James of TDL.
The FHOSS HALO Exclusion Zone system transmits focussed beams of light creating a clear visual exclusion zone around the machine which clearly demonstrates the area to be avoided. The benefit of being dynamic means where the machine goes, the halo follows.
Partnered with the FHOSS LIGHT livery, reflective, illuminated graphics that help to increase safety and visibility of staff, fleet and plant, the bespoke installation is made to suit individual machine and customer requirements. This helps to prevent accidents, reduce insurance claims and reduce public liability.
FHOSS Director, Andrew Kimitri explains, "As dedicated safety specialists, FHOSS works alongside forward thinking companies to help shape a progressive and safe working environment with a secure fleet of vehicles. Due to the versatility of our products, FHOSS can help your organisation take a key role in protecting members of the public and employees with effective safety / social distancing protocols and ultimately dramatically lower the risk profile of your operations."  Adding, "Our working partnership with TDL shows how seriously they take the wellbeing of their employees and customers alike and we are proud to work alongside them to help work towards a zero harm culture. We look forward to continuing this relationship in the future.
Combining high performance technology with innovative safety and performance features, both ATLAS as a manufacturer and TDL Equipment as the supplier are taking steps to better protect workforces across the country. As a value added option available for the entire ATLAS material handler range, from the 16 ton 160MH to the 59 ton 550MH, have you seen the light ?