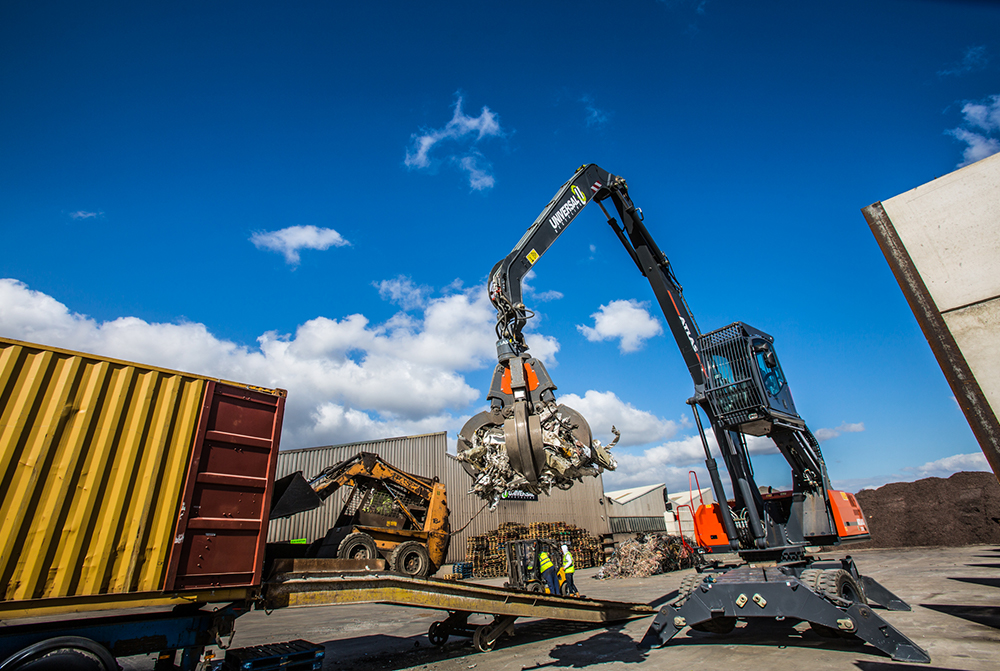 Scrap
Atlas material handlers can be found on scrap yards nationwide. The robust and expertly engineered design provide the reliability and productivity needed for scrap metal recycling. Atlas material handling excavators make light work of processing all types of scrap metal and end of life vehicles.
With reaches ranging from 8.4 to 21.1 metres, you can unload an ocean going ship as easy as small trailer with an Atlas material handler. With a bunch of safety features and attachments, Atlas material handlers are perfectly suited to sorting, cutting scrap, demolition and transfer.
Waste
The waste management industry has brought increasing levels of value to the wider British economy in recent years by achieving greater efficiencies. Improved efficiencies means a greater percentage of rubbish is being recycled rather than sent to landfill. TDL Equipment operate at the very heart of that industry by supplying the highest quality material handlers to the waste management industry. TDL supply the Atlas range of material handlers available with a wide range of compatible grabs to suit.
Waste spec Atlas material handlers are engineered to graft, the undercarriage can be configured for your exact requirements with 4 outriggers for excellent stability and high lifting capacity, with 2 outriggers and dozer blade for yard cleaning and high log stacking. A large selection of boom options provide versatility, with some options specifically for indoor work, industrial and adjustable booms with varying grabs make the Atlas material handlers versatile. The adjustable reverse fan supports working in difficult environments with a reversing time interval of between 0 and 60 minutes.
Rail road
No stranger to the Rail industry, Atlas have extensive expertise supplying Rail spec  excavators across the UK and Europe. Atlas offer extensive flexibility of OEM fitted options including double cabs and rail compliant hydraulic options.
Working closely with both Atlas and Rail Converters across the UK, TDL help to provide solutions to the challenging rail industry, working with you to provide a bespoke solution to suit your rail needs.
Internal Drainage Board
Atlas wheeled excavators provide unrivalled stability thanks to their wide axles. The long reach options and multiple hydraulic options such as weed cutting baskets, flails and others make them ideal for drainage boards across the country. The ATLAS 140W Big Foot is specifically designed for use within the drainage industry.