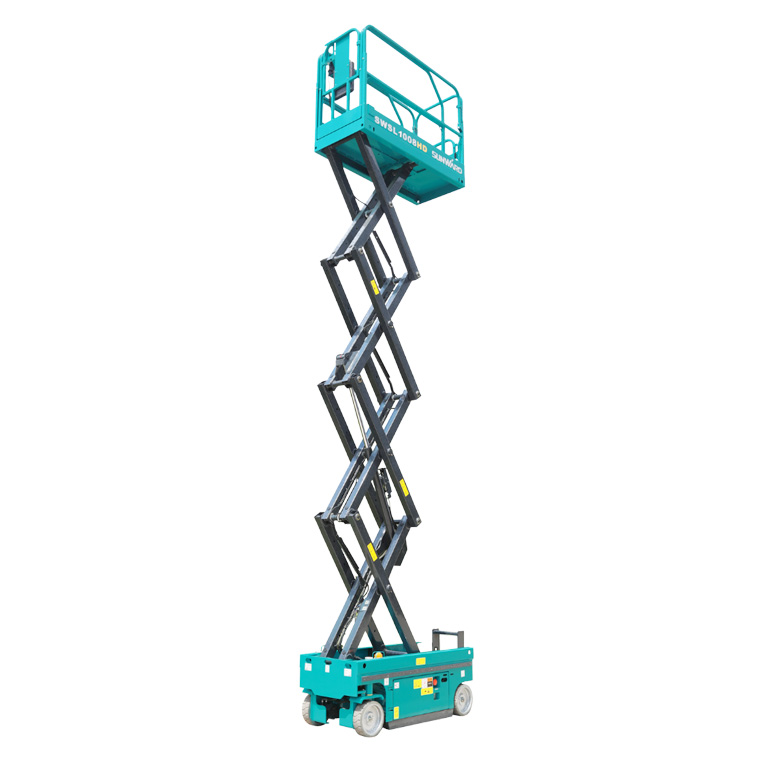 FEATURES AND BENEFITS

MADE FOR EUROPE
Like all the Sunward machines on the European market, the SWSL 1008HD is designed to meet European customer needs and has all the EU certifications.
SAFETY FIRST
As you know when working at height, safety is a priority. You must be able to fully trust your equipment. Thus you need the stability of a safe and intelligent machine. Sunward scissor lifts have been designed with safety in mind.
Sunward's specialized bending machine produces safe guard rails with the best protection on the market.
The automatic pothole protection ensures full stability during rising operations. The pothole protection lateral plate opens automatically to provide less ground clearance and greater stability.
EXTRA BATTERY LIFE
The Sunward electric scissor lifts rely on the best electric battery in the market to relay the power to fulfill all necessary operations. They are equipped with Trojan high-quality long-life batteries, ensuring long run-time before charging. They also offer zero emissions and quiet operation for sensitive environments.
SMART CHARGING
Sunward scissor lifts are equipped with fast charging battery. The integrated charger prevents voltage surges to provide a higher level of protection. The storage memory function enables you to query the amount of charge in real-time.
EASY MAINTENANCE AND SERVICE
For easy maintenance, the 'to be serviced' code is displayed automatically. Thanks to the USB port, a smartphone can also be used for diagnostics. The swing-out hydraulic oil tank and power module trays allow easy access to components for convenient service.
LOW COST OF OWNERSHIP
Our scissor lifts are carefully designed and all key components are selected from the world's leading providers. Easy access to components for convenient service avoid having stacked components. Service is a snap that contributes to reducing the cost of ownership. Rugged, reliable, and nearly maintenance-free, the Sunward scissor lifts are designed to provide ultimate performance for many years.
Enquire about the SWSL 1008HD