Keeping it in the family, Ripon based scrap metal recyclers KA Anderson are 3 generations into their fifth decade of trading. Originally founded by Keith and Joan Anderson fifty years ago, KA Anderson have operated from their current Ripon site since 1985 with a second site in Thirsk which was opened in 2010.
Today the business is run by sons Keith and Jim and daughter Pamela with the third generation coming up through the ranks hot on their heels. Proud to be a traditional, family run scrap metal firm, KA Anderson has built an enviable business handling more than 2000 tons of scrap metal per week and yet despite their growth and success, good customer relationships still form the heart of the business. Good service is important to KA Anderson but that isn't just limited to the service they provide their customers. The service they receive from suppliers is just as important and that's where the ongoing relationship with Sheffield based TDL Equipment comes in.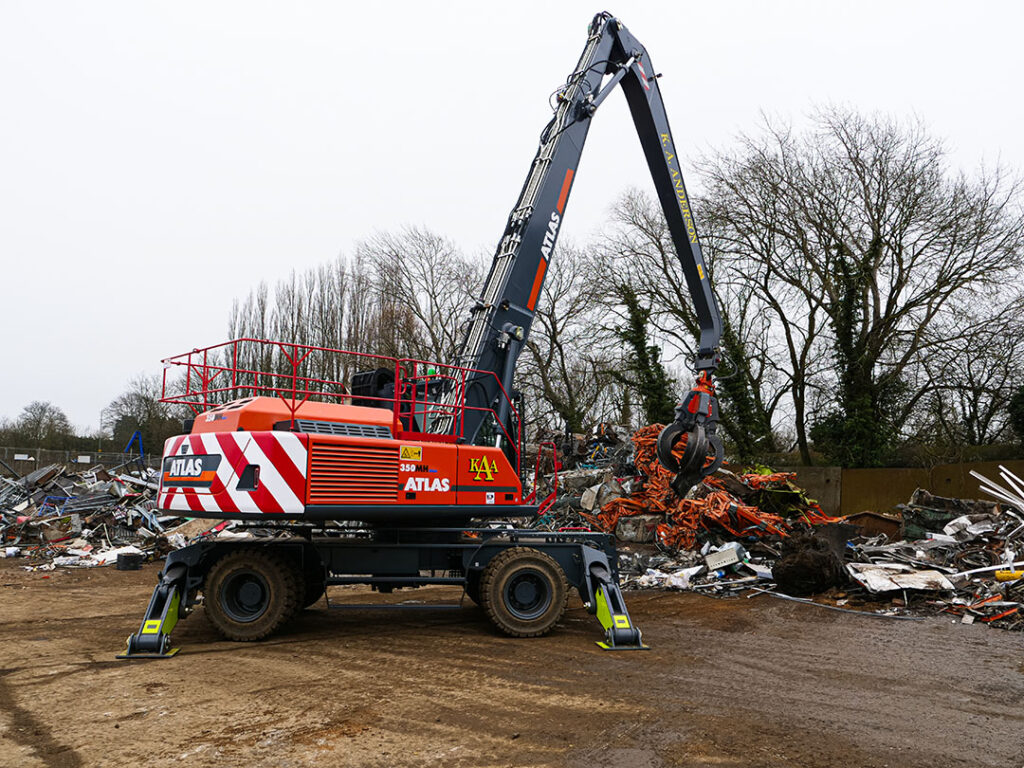 Having run a number of scrap metal handling machines over their 50 years of business, the firm have come to unify their machinery and vehicle fleets. "Working with fewer suppliers enables us to build better relationships and that's important", explains Keith. Atlas, the material handler of choice for the team at KA Anderson "gets the job done" according to Keith. "TDL Equipment are a local supplier which is a big plus for us. Down time is reduced which enables us to be as productive as possible".
Currently running not one but four Atlas 350MH material handlers and a 140MH, the Atlas brand combined with the back up from TDL Equipment has proved a formidable partnership for KA Anderson. The Atlas range of material handling excavators are strong and reliable and with over 100 years of manufacturing experience and expertise, Atlas offer one of the most tried and tested brands of material handler in the world.
The Atlas 350MH has an operating weight of 36 ton with a max range of 18.2 meters, combined with a 226HP engine and cab raise height of 2.7 meters, these machines are designed and engineered for optimal performance. The adjustable stabiliser legs offer increased stability and offering further added value, Atlas material handlers including the 350MH, feature an innovative battery isolation function where a three minute timer delayed battery isolation ensures the DEF fluid is returned to the tank and lines are fully emptied before the battery fully isolates.
Providing safety solutions for you and your site, the Atlas 350MH also boasts an easy access Emergency Cab Lowering System as standard, allowing the cab to be lowered from the outside in case of an emergency, illuminated livery and other safety aids are just some of the options available with the Atlas machines.
Working with both domestic, trade and commercial customers, the firm have adapted their fleet of machinery, vehicles and their processes to best serve the varying clientele but one thing remains the same, this traditional family run scrap metal recyclers are focussed around the long standing relationships with their customers and suppliers.
See KA Andersons Atlas 350MH scrap spec material handler in action
For more on the Atlas Material Handler range, take a look here.
To speak to one of our Atlas experts about your next material handler, call us on 08444 99 44 99