Discover Promove Multi Processing Crushers at TDL Equipment
Multi processing crushers are attachments specifically designed to reduce large rocks into smaller rocks, gravel, sand or rock dust. Crushers may be used to reduce the size, or change the form, of waste materials so they can be more easily disposed of or recycled, or to reduce the size of a solid mix of raw materials (as in rock ore), so that pieces of different composition can be differentiated.
The Promove attachments line up offers an outstanding range of crushers, hydraulic breakers, shears, grabs that are perfectly suited to the demolition, construction, waste and recycling industries. Promove multi processing crushers are used for the primary breaking of reinforced and oversized concrete structures and pillars. They are also used for the cutting of metal structures like industrial buildings, pylons, train cars, scrap processing, pipes and beams, heavy industrial tyres.
The features of our Promove multi processing crushers are:
Hardox, anti wear steel for optimum strength
Suitable for 3 – 55 ton excavators
Suitable for heavier machines in high-reach configuration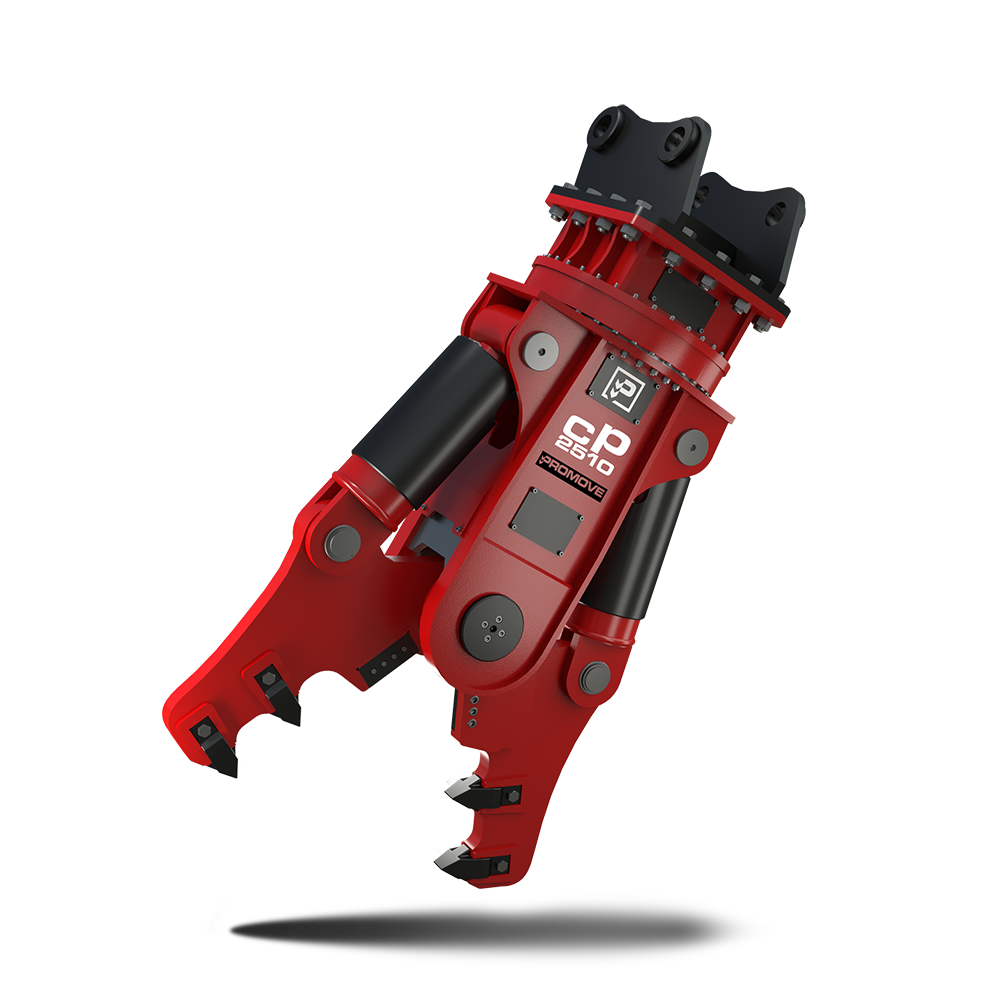 Promove Demolition Attachments at TDL Equipment
TDL Equipment are pleased to be offering the excellent Hydraulic Breaker range, compatible with excavators ranging from Micro 0.6T up to 130T heavy duty excavators. The hydraulic breaker range has a proven pedigree worldwide, supported by innovative features such as the Smart Valve which stops unintentional blank firing, auto greasing systems and comprehensive 'E-Breaker' telematics to optimise fleet management.
TDL Equipment will also supply the full Selector Grab range, which is available on 0.7-200T excavators, designed with a compact structure for enhanced material handling, paired with the range's large grab opening and high loading capacities. Supplementing the offering will be the Promove Scrap Shear range, perfect for the most demanding scrap yards across the UK, compatible with excavators from 2-85T.
The Promove Demolition range includes Multi-Processors, Fixed Pulverizers and Rotating Pulverizers compatible with machinery up to 50T. The demolition range is designed with the operator in mind and includes features including reversible blades, heavy duty and oversized pivot components and large jaw opening to optimise demolition productivity.
With more than 20 years experience in the heavy machinery industry, TDL Equipment are UK distributors of the entire Promove range. Find out more today by calling 08444 99 44 99