Since being appointed just over two months ago as sole UK dealer for Weycor's range of wheeled loaders, the product of German precision engineering, Sheffield based TDL Equipment, have certainly raised the profile of these compact and heavy duty machines in this part of the world; we recently saw one of the bigger loaders in action, courtesy of Budget Waste Management in Evesham, Worcestershire.
The company, which processes and recycles waste, including aggregates and soils, from Worcestershire, Warwickshire and Gloucestershire, recently trialled a 15 tonne Weycor AR660 over a five day period and operator Jason Smith says he's been really impressed by its handling and performance.
"It's also very driver friendly, anybody could quickly master the controls," he says. "I think manufacturers go wrong these days by making machines too complicated to operate; Weycor has applied simple engineering to make the controls easy to understand and that's a big plus in my opinion."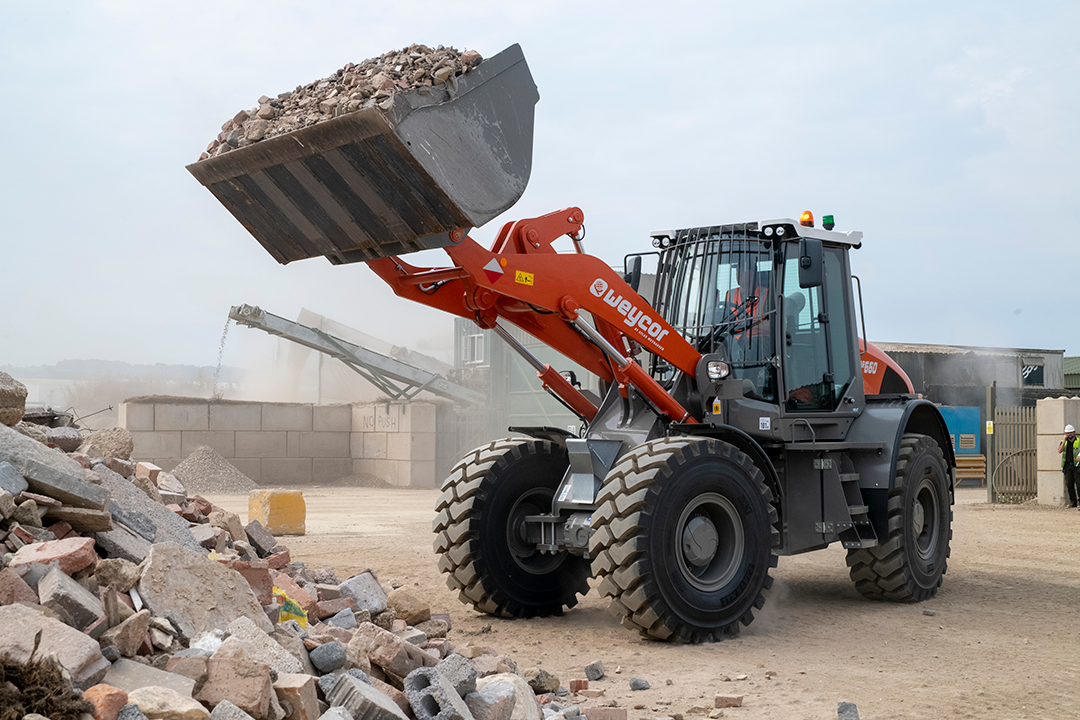 Having driven most makes of wheeled loaders over the past 14 years, including Komatsu, Liebherr and Doosan, he says the Weycor is up there with the best of them.
Perhaps not a familiar name in this part of the world, but that is about to change. As an Atlas brand Weycor has been developing wheel loaders for more than half a century for use in a number of sectors, including construction, material handling, recycling, agricultural and landscaping.
The new generation of machines – from 2.5 tonnes up to 16 tonnes – now available from TDL Equipment, offer well proven power, precision and reliability that operators have come to expect from German made quality equipment.
Since being appointed in June, TDL Equipment has had a number of machines out on demonstration with potential customers. Sales have also started to build, and comments TDL's Business Development Director James Bickerton: "Initial feedback both from sales and demonstrations has been exceptionally good, so we are very encouraged by the potential of the range going forward."
When Weycor wheeled loaders featured on TDL Equipment's stand at this year's Hillhead Show they attracted plenty of attention, especially in the demonstration area where one compact machine was put to work, so the message is definitely getting out there.
When we visited Budget Waste Management, the AR660 demonstration model was being put to work on a variety of tasks, including moving rubble at the company's 9.5 acre state-of-the-art transfer station to feed a concrete crusher, unloading wood chippings and other material from skips and loading up walking floor trailers, all of which served to underline the sheer versatility of this impressive looking and tireless workhorse.
"The Weycor cab is among the best designed and
most comfortable of all the machines I have ever driven."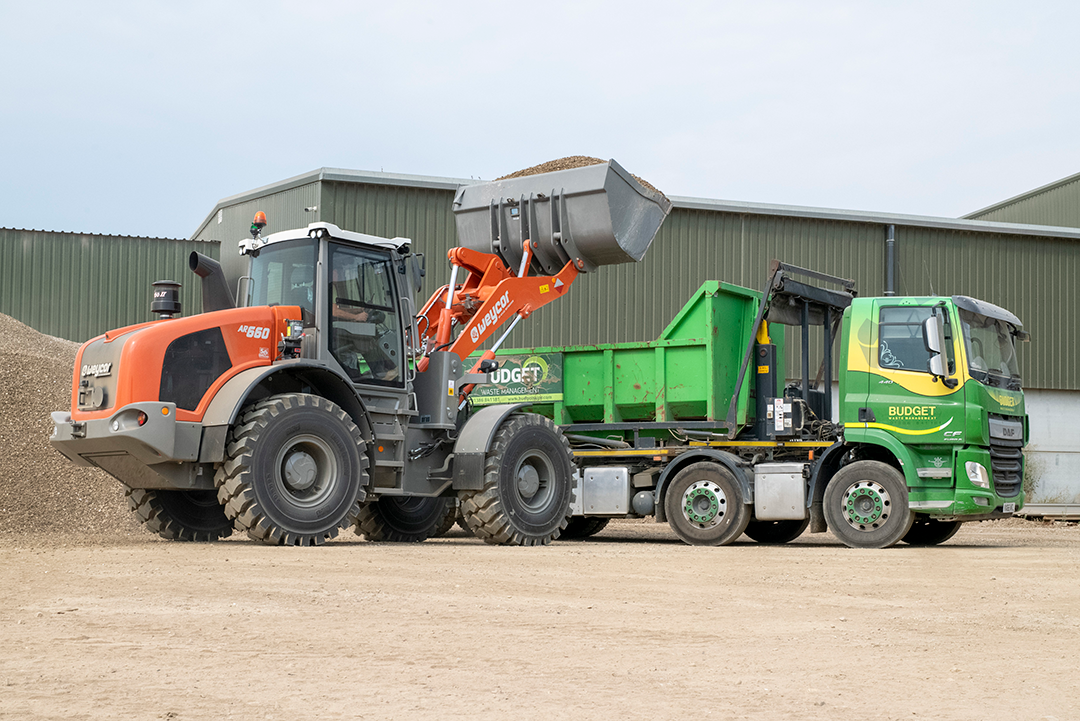 Operator Jason Smith had nothing but praise for the machine, as we mentioned. "It is more compact compared to what we have been using on site here; it's small but it has a lot of power, I really loved it. I have been using it all week and the cab is among the best designed and most comfortable of all the machines I have ever driven.
"The visibility from the cab is just amazing; there are no blind spots, thanks to the amount of glass. Even the door is all glass, whereas other manufacturers do half metal, half glass. A reversing camera further enhances visibility."
He adds: "Weycor have clearly put a lot of thought into the design of the machine to make it that much more driver friendly, even down to the operator's seat. In other machines, most seat controls are on the front, so when you get in and position your legs underneath the steering wheel you nearly always knock them. In the Weycor, the seat controls are on the side. To be honest, as I said, this is one of the best cabs I have been in."
Taking as closer look at the Weycor AR 660 wheel loader: with an engine output of 160 kW (215hp) and a bucket capacity of  up to 4 m³ it, like all Weycor wheel loaders, can be moved in three ways – in operating speed range from 0 to 6.5 km/h, in road speed range at up to 20 km/h or also in optional high speed at up to 40 km/h; first and second hydraulic gears as well as forward / reverse travel can be engaged under load. Switching between the forward / backward travel, speed ranges and off-position is done via a joystick.
Uniquely, Weycor wheel loaders have a separate inching pedal as standard. This prevents the possibility of moving against the operating brake, in contrast to the combination of a brake/inch pedal.
A generously proportioned inching range facilitates precise distribution of shearing and lifting forces. The result is less wear and lower fuel consumption.
Weycor use robust, low-maintenance articulated-swivel joints almost exclusively in conjunction with rigid axes. With an oscillation of ±12° in the rear carriage and an articulation angle of 40°, provide outstanding cross-country mobility, protect the ground and offer extreme manoeuvrability. With their low centre of gravity, Weycor wheel loaders have a high tilt stability even under extreme conditions.
The hydraulic quick-change attachment turns the wheel loader into an all-rounder and allows attachments to be changed in a few seconds. The proven Weycor kinematics provide high breakout forces and excellent lifting heights. The upwardly tapered loader arm offers the best view of the attachment.
Author, Awesome Earthmovers Magazine.
With more than 20 years experience in the heavy machinery industry, TDL Equipment are official UK distributors of the entire Weycor Range. Find out more today by calling 08444 99 44 99